Vision of the Department
To empower women and equip them to construct a healthy society.
To conceptualize students learning experiences by instilling skill-based education to suit the diverse career requirements in food, health and allied fields.
Mission of the Department
Promulgate knowledge and dexterity
Fostering traditional and holistic food culture practices with an evidence-based approach.
About Us
The changing scenario in the health care and hospitality sector paved way for the establishment of the Department of Home Science in the year 2013, with an undergraduate course in Clinical Nutrition and Dietetics. The three-year program, since, its inception, has worked towards excellence in developing the skill-sets and innate talents of the students.
The staff members of the department are well-qualified to suit the varied roles and work profile. They reflect a strategic commitment towards highest standards of teaching and research. The faculty members embark on quality research and have published articles in national and international journals. They also contribute to excellence in all phases of holistic student development with their constant support and motivation. The extension education programs offered by the department benefit the society and students together.
Our students possess a variety of skills and also are respectful, passionate and confident about their department and degree. They continue to play a proactive role in enhancing the reach of the department by pursuing post graduation courses nationwide and worldwide. They are also placed as dieticians and nutritionists in renowned hospitals across the state. They also take part actively in various community development programs. Around 35 students are a part of National Youth Council of India (NYCI) and Care & Welfare Service Organization. Our students have also co-authored various books that are available in Amazon.
FACILITIES OFFERED TO STUDENTS
Smart classrooms and well-equipped state-of-the-art laboratories such as microbiology and physiology laboratory, chemistry laboratory, and diet kitchen to facilitate new-age learning
Activity-based teaching pedagogy, cooperative learning, problem-based learning, gaming strategies, knowledge sharing sessions, field visits kindle the love towards academic enhancement.
Extensive in-house library covering a wide range of reference texts, study materials, and e-books.
Proactive placement cell that works to fulfill the career needs of the students
One-month internship program in various hospitals and food industries as on-the-job-training module
Food Preservation, Interior Decoration and Flower Arrangement are offered as certificate courses to enrich learning perspectives.
SYLLABI
The course integrates practical and theoretical knowledge related to food, nutrient metabolism, and its therapeutic aspects. The curriculum brings about an interesting mix of career-oriented papers like Medical Nutrition Therapy, Clinical Nutrition, Functional Foods and Nutraceuticals, Sports Nutrition, Diet Counselling Techniques and Practices that forms the crux of health care system.
Job Prospects
Students can be recruited in government sector, hospitals, food industries, food service establishments, and medical coding companies. Also, after successful completion of the course, they can become entrepreneurs, research scientists, clinical dieticians, nutritionists, Child Development Project Officer, ICDS Nutrition Officer, community nutritionist, free-lance nutritionist, blogger, and content writer related to nutrition and health. We also equip the students with managerial skills needed for entering into business administration in the field of food, nutrition, and wellness industry.
Noted Alumni
Ms. Deepalakshmi Sriram (2014 – 2017 Batch), Clinical Nutritionist, Registered Dietician, Certified Diabetes Educator, Smile Train, Sri Ramachandra Cleft and Craniofacial Centre.
Ms RC Pavithra (2014 – 2017 Batch) , Assistant Professor, VEL'S VISTAS, Pallavaram, Chennai
Ms. Sharmila Devi B (2015 – 2018 Batch) pursued MS Food Innovation in Greenwich University, London and is currently employed as Senior Health Care Assistant, London
Ms. Madhumeta S (2015 – 2018 Batch), Dietician, Paleto Nutricare LLP
Ms Salomiya (2015 – 2018 Batch), Dietician, Dr. Rela Institute & Medical Centre.
Ms. PG Keerthana (2016 – 2019 Batch), Clinical Dietician Associate, Apollo Multispecialty Hospital
Ms. Megha (2016 – 2019 Batch), Dietician, Karpaga Vinayaga Hospital
Ms. Ishathri (2016 – 2019 Batch), Dietician, Fortis Malar Hospital
Ms. P. Sridhanalakshmi (2016 – 2019 Batch), Dietician, MD Home Health Care Service, United Arab Emirates
Ms. Valentinia Constantintinia (2017 – 2020 Batch), Dietary in-charge at Tagore Medical College and Hospital which is a multispecialty unit with 850 beds.
Ms. Anitha C (2018 – 2021 Batch), Proprietor & Trainer, Deva Yoga Centre
Special Features :
Holistic development
The department always looks forward to an all-inclusive growth in the student. We promote community development and social responsibility through society-centric extension activities. Outreach programs in association with Indian Dietetic Association and Food Standards Safety Authority of India are organized every year. The department also conducts seminars, symposium, and conferences every year to promote fruitful interactions with the food and health care sector to stay abreast about the recent trends in the industry. Some of the eminent guests and speakers who graced our events
Dr. Dharini Krishnan, Nutrition Consultant, Former President of Indian Dietetic Association, Chennai Chapter
Mrs. B. Manimegalai, Chief Dietician, Christian Medical College, Vellore
Dr. V. Chockalingam, Senior Cardiologist, Director, Mind your Heart, Chennai
Dr. Chef K Damodaran, Professor and Director, Empee Institute of Hotel Management & Catering Technology, Chennai
Dr. N. Shalini, Psychiatrist, Chief Nurturing Officer, Inner Temple, Chennai
Mrs. Mallika Badrinath, Celebrity Chef, Food Writer and Cookbook Author.
Mrs. Shiny Surendran, Holistic Nutritionist, Author and Entrepreneur.
We also equip the students with managerial skills needed for entering into business administration in the field of food, nutrition, and wellness industry. The students are also given exposure through participation in national and international conferences, various competitions and events. With a steadily growing demand for nutritionists and dieticians, our students have been placed in various reputed health care organizations, food industries, and in the wellness sector.
INSTAGRAM – https://www.instagram.com/clinicalnutrition_2013/
YOUTUBE CHANNEL – https://www.youtube.com/channel/UCRnr0suUuGm70g8ohDCvt2Q/featured
SWOC- https://drive.google.com/drive/folders/1Cx7chTgMJZnVb_ffFUoxQNpG_wWjwkdr?usp=sharing
Faculty Members
Mrs. V.Subasshini, M.Sc., M.Phil., UGC NET, Assistant Professor & Head In-charge
Mrs. P. Uma maheswari, M.Sc., M.Phil., UGC NET, Assistant Professor
Mrs. Aruna M, M.Sc., UGC NET, Assistant Professor
Mrs. Sangavi P, M.Sc., UGC NET, Assistant Professor
Mrs. Kezia. J, M.Sc., M.B.A. (HR), M.Phil., UGC NET, Assistant Professor
Activities 2020-21
The Department of Home Science- Clinical Nutrition and Dietetics,since its inception has been organizing various thought provoking, informative seminars, workshops and association events. In the academic year 2020-2021, despite lockdown used the power of technology in successful execution of various events.
Nutrigala 2020
The department conducted Nutrigala 2020 with series of events like – a live webinar, quiz and competitions for school and college students with entries from national and international level, with the theme- 'Healthy food for healthy life- Eat right to nourish you'.
Eminent speakers like Mrs. Shiny surendren, a Chennai based holistic nutritionist, author, and entrepreneur and Mrs. Mallika Badrinath.
Guest Lecture: Nutrition and Product Development -Future Of Food Innovation
To integrate the realms of food product development in production of novel nutritious food products, an inquisitive guest lecture on 'NUTRITION AND PRODUCT DEVELOPMENT -FUTURE OF FOOD INNOVATION' was organized on 21 st March 2021, by inviting the eminent speaker, Dr. G. Nagamaniammai, M.Tech, Ph.D., Associate Professor, Food Process Engineering, SRM Institute of Science and Technology. The speaker imparted knowledge on various aspects of NPD like food product innovations, future of food trends, nutraceutical, functional foods, categories and need for process food, stages in developing new product, food perception model, scope of entrepreneurship in processed food, etc. Nearly 212 participants got benefitted by the updated insights on NPD through the virtual talk.
Nutri-contest 2021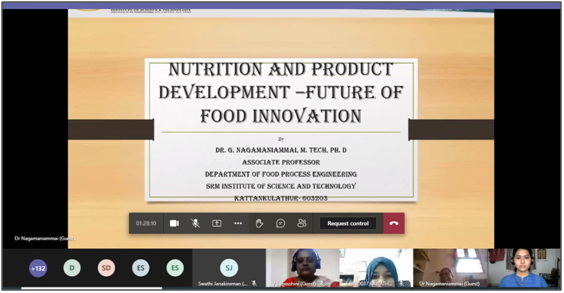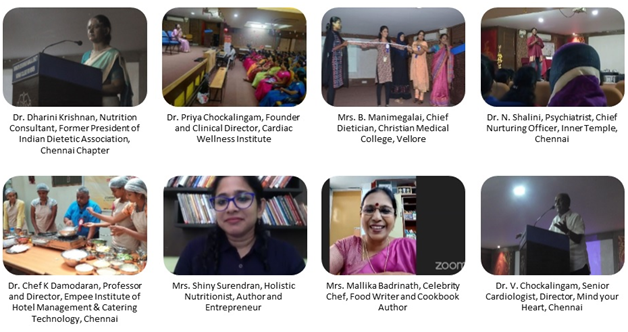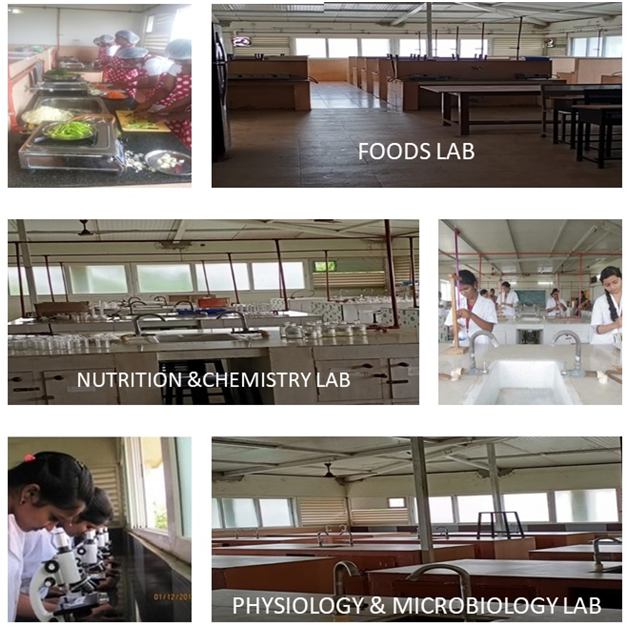 FACULTY DETAILS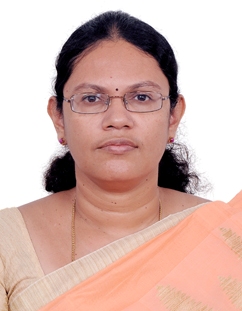 Bsc Msc NET
Assistant Professor
Specialization: Guiding M.Sc Research projects ( five years and six months)
Experience: 7.4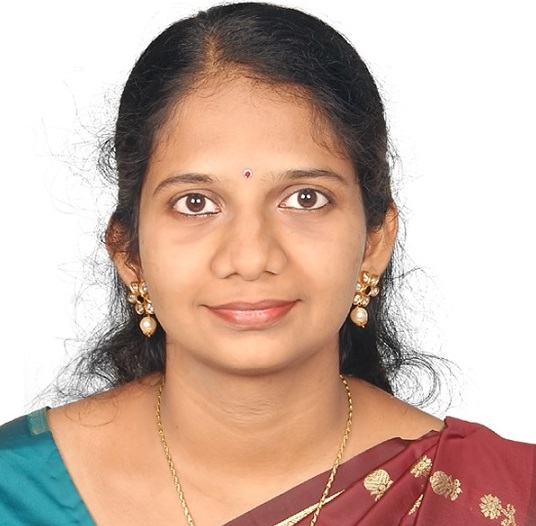 Bsc Msc NET
Assistant Professor
Specialization: Foods and nutrition
Experience: 2 Years and 7 months