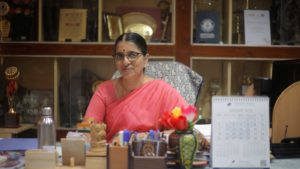 "Education is the basic tool for the development of consciousness and the reconstitution of society."
-Mahatma Gandhi
Shrimathi Devkunvar Nanalal Bhatt Vaishnav College for Women founded in the year 1968 by Cork Industries Charities Trust has built a strong reputation for imparting education of high quality with a focus on overall development of women students from the Southern part of Chennai.
As our esteemed Institution marches towards its Golden Jubilee year, it is my pride and privilege to take the responsibility as Principal to light up the path and steer this citadel of learning to achieve greater heights in the years to come.
The vision of our College is to mould and shape the career prospects of every student by creating an environment for life-long learning and education combined with creativity, dynamism and entrepreneurship.
Emerging technologies like Data science, Artificial Intelligence, Internet of Things, Digital Marketing etc. leading to automation and disruptive innovation will be the key drivers of the world of tomorrow. Our College will endeavor to meet this challenge by suitably transforming its approach and roadmap to scale these new peaks.
To quote Dr.A.P.J.Abdul Kalam
"My message especially for young people is to have courage to think differently, courage to invent to travel the unexplored path, courage to discover the impossible and to conquer the problems and succeed. These are great qualities that they must work towards. This is my message to the young people."
Let us learn to adapt ourselves to face the fast paced technological changes and work together to translate the vision of our College to reality.
Jai Hind
Dr.R.Geetha