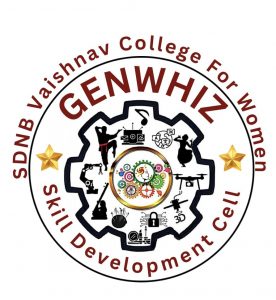 SDNB Centre for Skill Development is a dedicated hub that offers 100+ skill programs for students to make them industry ready. Our goal is to provide our students the practical skills and competences that will not only enrich their college experience but also improve their employment chances.
Our program offerings are designed to be inclusive and versatile, catering to a wide range of interests, passions, and skill levels. The Center for Skill Development Programs brings together a team of experienced instructors and industry experts with the goal of assisting our students in gaining the skills they need to succeed in the current competitive business market. Our extensive course selection offers a multitude of possibilities to explore, learn, and develop, covering everything from business and entrepreneurship to creative arts, technology, leadership, and more.
The college journey is an ideal time to discover and refine their talents, and our center is here to support them at every step of the way.
Objectives : 
SDNB – Skill Development Cell offers 100+ skill programs for students to make them industry ready.
Pre-assesment and Post-assessments for every program.
Course Dashboards are reviewed periodically and changes are implemented based on industry analysis.
Partnering with reputed corporate learning partners to bridge the gap between college and corporate.
Skill course curriculum is reviewed and refined periodically.
Career guidance is provided to help the students to reach their dream job.
CLICK HERE TO VIEW LIST OF SWAYAM / MOOC / NPTEL COURSES 
Certificate Courses offered

Certificate Courses Offered

S. No
Course Name
Offered by
Duration
1
Arthavidya – Business Accounting Process (BAP) – Level1
Arthavidya
60hrs
2
Arthavidya – Business Accounting Process (BAP) – Level2
Arthavidya
60 hrs
3
Arthavidya – Business Accounting Process (BAP) – Level3
Arthavidya
60 hrs
4
FINMARK – NSE- Fundamentals of Capital Market
FINMARK
15 hrs
5
FINMARK – NSE- Fundamentals of Equity Research Analysis
FINMARK
15 hrs
6
FINMARK-NISM-Equity Derivates
FINMARK
15 hrs
7
FINMARK-NISM-Securities Operations and Risk Management
FINMARK
15 hrs
8
FINMARK-NISM-Mutual Fund Distributors Module
FINMARK
15 hrs
9
FINMARK-E learning – Investment Adviser (Level 1)
FINMARK
15hrs
10
CISI – Financial Planning and Wealth Management
FINMARK
30hrs
11
Market Research
TCS
70hrs
12
Managing Business Process
TCS
50hrs
13
Banking for BPS
TCS
70hrs
14
Module 1
VIVAC
30 hrs
1. Single entry accounting system for SME 'S in MS-Excel using Mathematical Formulas.
2. Double Entry System of Accounting in MS-Excel using Pivot, Sum-if and Lookup.
3. Financial Data Analytics in MS-Excel using Sort & Filter, conditional formatting, IF Analysis.
4. Visual Data representation using Charts in MS-Excel.
5. Data collection and retrieval in Information Systems.
6. Practical treatment of accounting entries for different Industries.
7. Preparation and Maintenance of Salary Sheet for Employees in MS-Excel.
8. Introduction to EPF Act and ESI Act and its effects in Accounting entries, Maintaining PF and ESI Register in MS-Excel.
15
Module 2
VIVAC
30 hours
1. Introduction to TDS under IT Act, its effects in Accounting Entries, Maintaining Data for TDS Returns in MS-Excel.
2. Introduction to GST Act, its effects in Accounting Entries.  Maintaining GST Registers required as per Act in MS-Excel.
3. Introduction to Foreign Exchange and calculating Realized/Unrealized Forex Gain/Loss in MS-Excel.
4. Complete working knowledge in Tally for Module 1 & 2.
5. Complete working knowledge in ZOHO for module 1 & 2.
16
Module 3 -Brief on Income Tax Rules and Regulations
VIVAC
30 hrs
17
Module 4 – ( 25 HOURS)
VIVAC
25 hours
Brief knowledge on GST Rules and Regulations
18
Module 5 – (5 HOURS)
VIVAC
5 hours
MCA Compliance Rules and Forms
Module 1 & 2 are compulsory before proceeding to 3, 4, and 5
19
Certificate Course on GST
International Chamber of GST Professionals
30hrs
20
Tanjore Art – Beginners level
Ms.Dharani (SDNBVC Alumni and Freelance trainer)
18hrs  + 12 hrs(practice)
21
Bharatanatyam
Omkara Art foundation
30 hrs
22
Western dance
KGB Danzone
30 hrs
23
Carnatic music – Beginners Level
Sa Ri Ga Music academy
30 hrs
24
Aari work
Ms.Ranjitha (SDNBVC Alumni & Freelance Trainer)
30 hrs
25
Karate
S.Dhanapriya (Freelance Trainer)
30hrs
26
Japanese level N5 (BASIC)
Communiqua Language Training Centre
100-120hrs
27
Spanish Level A1
Communiqua Language Training Centre
70-90hrs
28
German Level A1
Communiqua Language Training Centre
70-90hrs
29
Robotics – Level 1
Yagen
30 hrs
30
Robotics- Level 2
Yagen
30 hrs
31
Internet Of Things Level 1
Yagen
30 hrs
32
Internet Of Things Level 2
Yagen
30 hrs
33
Drones & 3D printing
Yagen
30 hrs
34
SQL
Upschool
30 hrs
35
Java
Upschool
30 hrs
36
Python
Upschool
30 hrs
37
Digital Photography
Department of Visual Communication
30 hrs
38
Cake Baking
Anjana Culinary and Arts Institute
30 hrs
39
Brownie
Anjana Culinary and Arts Institute
30 hrs
40
Cup Cake and Muffins
Anjana Culinary and Arts Institute
30 hrs
41
Cookies
Anjana Culinary and Arts Institute
30 hrs
42
Ice creams
Anjana Culinary and Arts Institute
30 hrs
43
Chocolates
Anjana Culinary and Arts Institute
30 hrs
44
Summer Mock Tails
Anjana Culinary and Arts Institute
30 hrs
45
Breads and Buns
Anjana Culinary and Arts Institute
30 hrs
46
Basic beautician
Pink Elite Training centre
30 hrs
47
Hair style
Pink Elite Training centre
30 hrs
48
Mehendi
Pink Elite Training centre
30 hrs
49
Sari draping
Pink Elite Training centre
30 hrs
50
Basic make up
Pink Elite Training centre
30 hrs
51
Certificate in Supply Chain Management
L&T Edutech
30 hrs
52
Certificate in Data Analytics
L&T Edutech
30 hrs
53
Certificate in Programming for Data analytics using Python
L&T Edutech
30 hrs
54
Certificate in Applied industrial Internet of Things (IoT)
L&T Edutech
30 hrs
55
Certificate in Finance for Professionals
L&T Edutech
30 hrs
56
Certificate in Digital Marketing
L&T Edutech
30 hrs
57
Certificate in Business Analytics with Excel
L&T Edutech
30 hrs
58
Certificate in Business Analytics with R and SAS
L&T Edutech
30 hrs
59
Full Stack Business Analytics
L&T Edutech
180 hrs
60
Full Stack Data Analytics
L&T Edutech
180 hrs
61
Full Stack Web Development
L&T Edutech
180 hrs
62
CISI Financial and Insurance Planning
FINMARK
30 hrs
63
CISI Wealth Management and Private Banking
FINMARK
30 hrs
64
CISI Fundamentals of Investment Banking
FINMARK
30 hrs
65
Fintech Foundation
TN ASDC
30 hrs
66
Fundamentals of internal Audit
TN ASDC
45 hrs
67
Internal Audit Frameworks
TN ASDC
45 hrs
68
Business Analytics for BFSI
TN ASDC
45 hrs
69
Front End Engineering – React JS
Purple Academy
30 hrs
70
Backend Development – Node JS
Purple Academy
30 hrs
71
Core Java
Purple Academy
30 hrs
72
Software quality assurance
Purple Academy
30 hrs
73
Cloud computing and DevOps
Purple Academy
30 hrs
74
Mobile Engineering
Purple Academy
30 hrs
75
User Interface/User eXperience(UI/UX)
Purple Academy
30 hrs
76
Investment Banking
IMARTICUS
180 hrs
77
Bank Exam Coaching
T.I.M.E
90 hrs
78
Programming in C++
Infosys Spring Board
self paced
79
BASIC ANALYTICAL METHODS
Infosys Spring Board
self paced
80
Basic of Python
Infosys Spring Board
self paced
81
Basics of business communication
Infosys Spring Board
self paced
82
Building Creative confidence
Infosys Spring Board
self paced
83
Cybersecurity and Networking Fundamentals
Infosys Spring Board
self paced
84
Design thinking
Infosys Spring Board
self paced
85
essential of cloud computing
Infosys Spring Board
self paced
86
Fundamentals of Information Security
Infosys Spring Board
self paced
87
Internet of things
Infosys Spring Board
self paced
88
INTRODUCTION TO AI
Infosys Spring Board
self paced
89
Introduction to Cyber Security
Infosys Spring Board
self paced
90
INTRODUCTION TO MACHINE LEARNING
Infosys Spring Board
self paced
91
INTRODUCTION TO UI/UX
Infosys Spring Board
self paced
92
Machine learning & Data analytics
Infosys Spring Board
self paced
93
Mobile App Development: An Introduction Android Development
Infosys Spring Board
self paced
94
Oracle SQL
Infosys Spring Board
self paced
95
PRACTICAL HTML CSS
Infosys Spring Board
self paced
96
PROGRAMMING IN C
Infosys Spring Board
self paced
97
PROGRAMMING USING JAVA
Infosys Spring Board
self paced
98
Python Basics
Infosys Spring Board
self paced
99
R PROGRAMMING
Infosys Spring Board
self paced
100
SQL DEVELOPER
Infosys Spring Board
self paced
101
Time management
Infosys Spring Board
self paced
102
Wireless 4G-5G enabling technologies
Infosys Spring Board
self paced
103
Acquiring Data
NASSCOM
10 hrs
104
Fundamentals of  Data Analytics
NASSCOM
61 hrs
105
Data science for Beginners
NASSCOM
30 hrs
106
AWS Cloud practioner Essentials
NASSCOM
8 hrs
107
Introduction to Cyber security
NASSCOM
10 hrs
108
Introduction to Digital Engineering
NASSCOM
33 hrs
109
BPM Associate (Insurance)
NASSCOM
5 hrs
110
BPM Associate (Banking)
NASSCOM
9 hrs
111
BPM Associate (F & A)
NASSCOM
5 hrs
Committee Members

Committee Members

Director : Dr Renu Agarwal, Vice Principal (SFS), SDNBVC
Head : Ms Anju Jacob, Skill Development (Learning Partner Relationship)

PROGRAM EXECUTIVE DIRECTORS:

Arts & Languages : Ms. Hema, English (Aided)
Science : Dr G B Hema Malini, BCA
Commerce : Dr T P Priya, M Com (A & F)

Program Incharges

Naan Mudhalvan : 

ARTS & LANGUAGES :

Ms. Hema, English (Aided)  – SPOC
Ms N Anabarasi, B Sc Maths – SPOC
Ms V Preethy, B Com (cs) – SPOC

Arts & Languages : 

Dr S.Saraswathi, History (Aided)
Dr M.Nagamalar, MA HRM
Ms P.Angela, English
Dr Nasreen Sultana,English

Science : 

Dr Padamavathy, (Aided)
Dr S Jayalakshmi, M Sc (App Maths)
Ms R Divya, B Sc (cs)
Dr S R Shruthi,M Sc (Bio Stat)

Commerce : 

Ms Vinu Priya, Commerce (Aided)
Dr R Subhasri, B Com PA
Ms S Amalya Rani, B Com (BIM)
Dr P Maheshwari, M Com
Dr Aruna Devi, B Com (cs)
Ms R Iswarya, B Com

Staff Course Co-ordinators :

Ms.Sivasankari, Robotics Centre  Yagen
Ms.Jeevitha, BCA Yagen
Ms.Rajeswari , B.Sc Computer Science Yagen
Ms.Anusuya, BSc (CS) ALB Multimedia
Ms.Pavithra, B.Sc (Cs with CGS) ALB Multimedia
Ms. Jeevitha, BCA Upschool
Ms. Radhika  VIVAC
Dr Priya Reddy Artha Vidya
Ms. Vinothini Finmark
Dr T. P Priya  TCS
Ms. Radhika  VIVAC
Ms. Bala Kamakshi ICSI
Dr. M. Priya AWS ICT
Union team  Vocational courses
Ms. Shyamala  CMA & Imarticus
Ms. Subashiri CA
Ms. Arundathi Kings Learning
Ms. Sangeetha, Bcom PA L&T Digital
Ms. Maheswari, Mcom L&T Digital
Ms. Sasi Seetharaman IT courses Aided
Ms. Srividya  GST

Student Course Co-ordinators :

AIDED

President :
Ayesha Siddiqua R  BSc Mathematics (Final Year)

Secretary :
Persiyal Jeba Kumari M B. A. English (Final Year)

SFS  SHIFT I

President :
Akshaya Devi P  MA English (Final Year)

Secretary :
Sai Sruti K BBA (Final Year)

SFS SHIFT II

President :
Rupashree K BCOM Banking and Insurance Management (Final Year)

Secretary :
Bhuvaneshwari S BSc Computer Science with  Artificial Intelligence (2nd Year)