ABOUT THE DEPARTMENT
The Department of Visual Communication was started in the year 2007 under the self-finance stream with 16 students. The department offers a three year undergraduate programme of B.Sc. Visual Communication. Art, Graphic Design, 3D, Photography, Television and Radio Production are the main focus areas of the syllabi. We have well-equipped Drawing and Multimedia labs with internet facility. Department is furnished with advanced infrastructure namelyseparate Preview Theatre, Shooting Floor, Video Editing and Dubbing Studio.
Course Offered:
UG – B.Sc. Visual Communication
Certificate Courses:
The department offers three skill based certificate courses for non-viscom students of the college.
Basic Graphic Design
Introduction to Drawing and Painting
Basics of Pencil Drawing
Job Opportunities
Drawing – Commercial Artist, Storyboard artist, Caricature Artist, Art Directors, Drawing Teacher
Advertising – Graphic Designers, Copy Writers, Client Servicing, Marketing – Space sellers, Production Executive, AD Filmmakers, Research Executive, Media Planner, Public Relational Officer, Typographer
Photography – Photographers, Stylist, Photo Editor, Newspaper or Magazine Designer
Film – Director, Script Writer, Cinimatographer, Lighting Directors, editor, film critics
Web Designing – WEB DESIGNERS , UIUX designer
Television – Director, Script Writer, Video Editor, Sound Technician, Colour Correction Artists
Radio – Sound Technician, Radio Jockey, Script Writers
Animation – Visualizers, Layout Artist , Animator, 3 D designer, SFX and VFX Technicians, Title Designer
On Screen Talents – Journalists, Reporters, News Presenter, Anchor, Video Jockey
STAFF DETAILS
Mrs. J.Padmapreethi, M.A. Broadcast Communication, UGC-NET , Assistant Professor & Head
Teaching Experience – 11 years
Industry Experience – 1 Year (Production Executive at Doordarshan – Podhigai)
Mrs. Suganya Varma.R, M.A. Communication, Assistant Professor
Teaching Experience – 5 months
Industry Experience – 4 years (as Photographer and Graphic Designer)
Mrs. K.R.Lalitha, MBA in Media Management, UGC-NET, TN-SET, Assistant Professor
Teaching Experience – 2 months
Industry Experience – 1 Year (Media Researcher at Ramoji Film City)
Invited talk- UG Department of Visual Communication on 18/10/2019
Dr. L. Chinnappan, Head of the Departments of Visual Communication, Media Arts and Multimedia at Loyola College addressed the students on 'Career Counselling and Scope in the Media Industry' on 18/10/2019.
STAFF ACHIEVEMENT
Mrs J. Padma Preethi, Head of the Deparatment, Department of Visual Communication has contributed a chapter in the book titled 'COVID-19 and it's Impact' which was selected for "Asia Book of Records" and "India Book of Records"
Visual Communication Infrastructure
Audio Editing Studio

Design Studio

Photography Studio

Previe Theatre – 100 seating capacity

Recording Studio

Television Production Studio

Video Editing Studio

Drawing Studio

Lecture Room
Department of Visual Communicaton proudly organises, 12 hour painting workshop.
Department of Visual Communication conducted a creative 24 hour long painting workshop in a two day split basis on 27th and 28th of March 2021. The students of the Department worked with the guidance of a renowned artist Mr. Vinoth Kumar A.K.A. Artist Six.
Mr. Vinoth Kumar is a Core Member at Madrasters and a Senior Visual Designer at Zoho Corporation.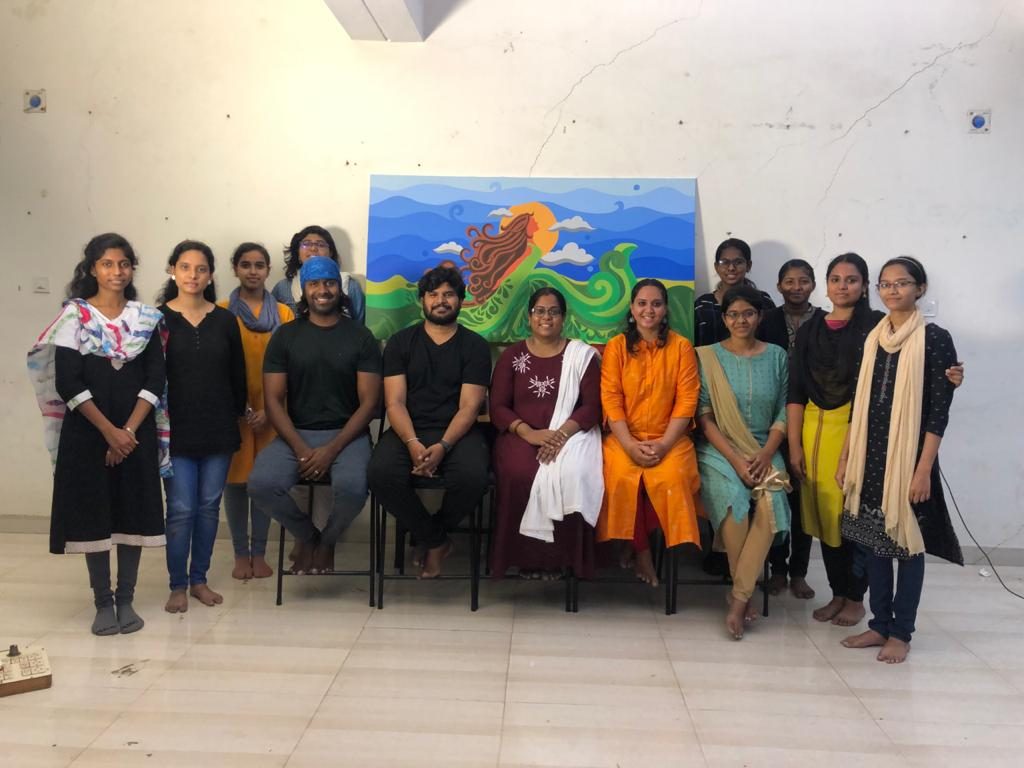 A 68×35 inches measured canvas was painted with the guidance of Mr. Vinoth Kumar sir.The Canvas is going to be placed in the Principal's office in the college.
Aishwarya J (final year),
Keerthana B(second year),
M.Gayathri Devi,
R.Chaitanya and
C.R.S.Yuvashree from first year painted the canvas.
Bhuvaneshwari R, Mythili N, Vaishali R from second year volunteered and helped the team.
The workshop was effective and the students learned various new techniques like Brush handling, Proper cleaning of a brush, how to fill colors, stroke techniques, color contrast, how to view a painting and understand it from the renowned artist in the two day workshop. This gave the students a new perspective on painting.
MEDIJI 2021 – The National Level Virtual Culturals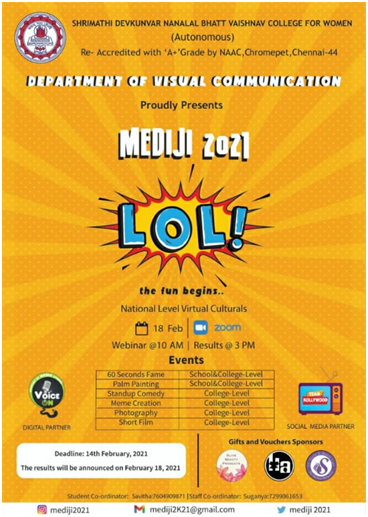 The Department of Visual Communication organized "MEDIJI 2021", a National Level Virtual Culturals held on 18th February 2021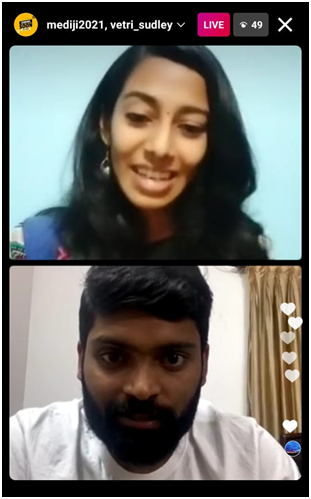 The logo, theme and events were launched on Instagram Live by the young and talented actor, Mr. Vetri of '8 Thottakal' fame which is held on 22nd January, 2021. The theme for Mediji 2021 was LOL, The Fun Begins.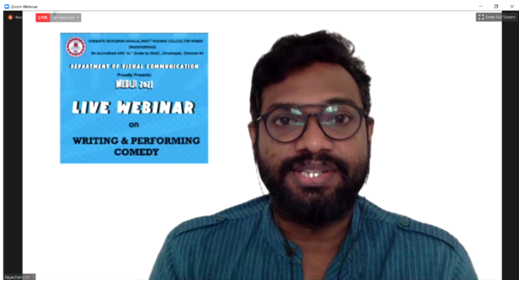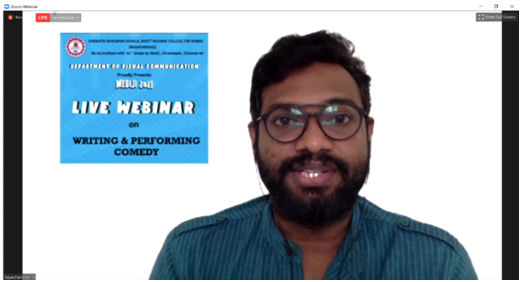 On 18th February 2021, The Department of Visual Communication conducted an exclusive webinar on 'Writing and Performing Comedy' by the resource person, Mr. R. Jayachandran, a renowned comedian & Star Vijay TV's Kalakka Poovadhu Yaaru Season 9 Title Winner held at 10:00 A.M. It was a grand success that nearly 900 participants from various colleges in all over India were attended the session on Zoom as well as YouTube streaming. A live webinar with the resource person was very interesting, knowledgeable and informative for the participants.
It was a splendid national level virtual culturals held from 25th January 2021 to 14th February 2021. There were 8 online events such as Palm Painting and 60 seconds Fame for school level and Meme Creation, Palm Painting, Photography, 60 seconds Fame, Short Film & Stand up Comedy for college level. Overall, 189 students from various schools and colleges in all over India had participated for the virtual events.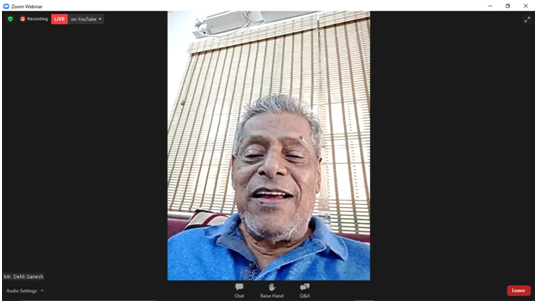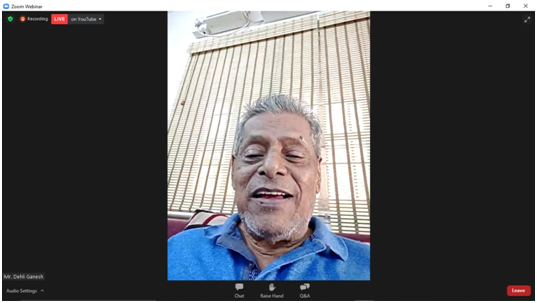 The result announcement for Mediji 2021 was declared by the legendary comedian of Tamil Cinema, Kalaimamani Mr. Delhi Ganesh held at 3 P.M. 23 participants from various schools and colleges won the 8 virtual events.
Mediji 2021 was supported by Ha Ha Arts & Gifts, Olive Beauty Products and SV Herbs & Beauty Care. 'Voice on Tamil' was our digital media partner and Team Kollywood', our social media partner.
It was followed by a vote of thanks and the virtual culturals concluded.
PRAKRITI 2021
The Department of Visual Communication at SDNB Vaishnav College for women, Chromepet conducted an Annual Association meet named PRAKRITI 2021. The Association was conducted exclusively for school students.
On March 12, 2021, the results announcing the prize winners of PRAKRITI 2021 were conducted through an Instagram live by Master Fame Actor, Mr. Lallu Prasath. He announced the names of the winners of PRAKRITI 2021.
Photography Trip
On 5th August 2019, a photography trip to Mahabalipuram and Dakshin Chitra was visited by the students of Visual Communication. The students got an opportunity to capture the tradition and culture in various frames. It was a huge treat to all aspiring travel photographers.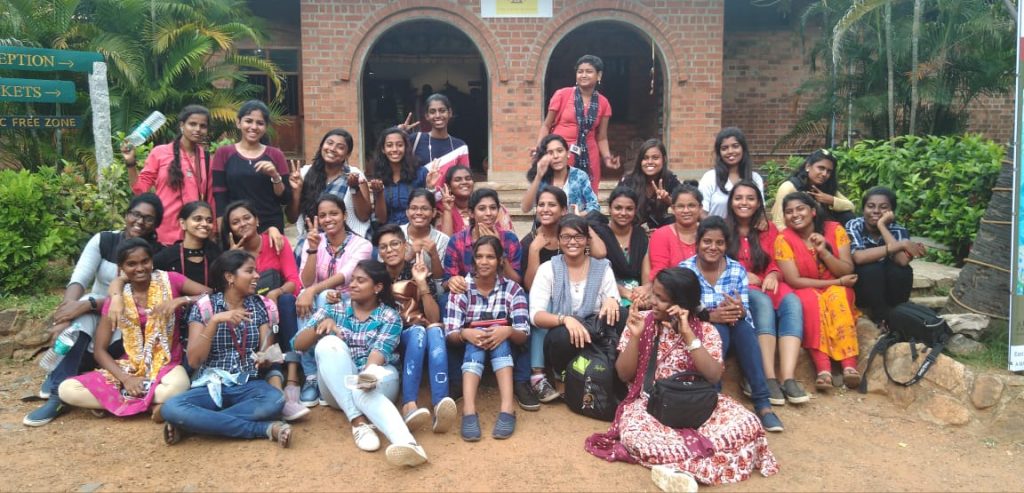 FACULTY DETAILS
MFA
Assistant Professor
Specialization: fine Arts Painting
Experience: 1 year and 2 months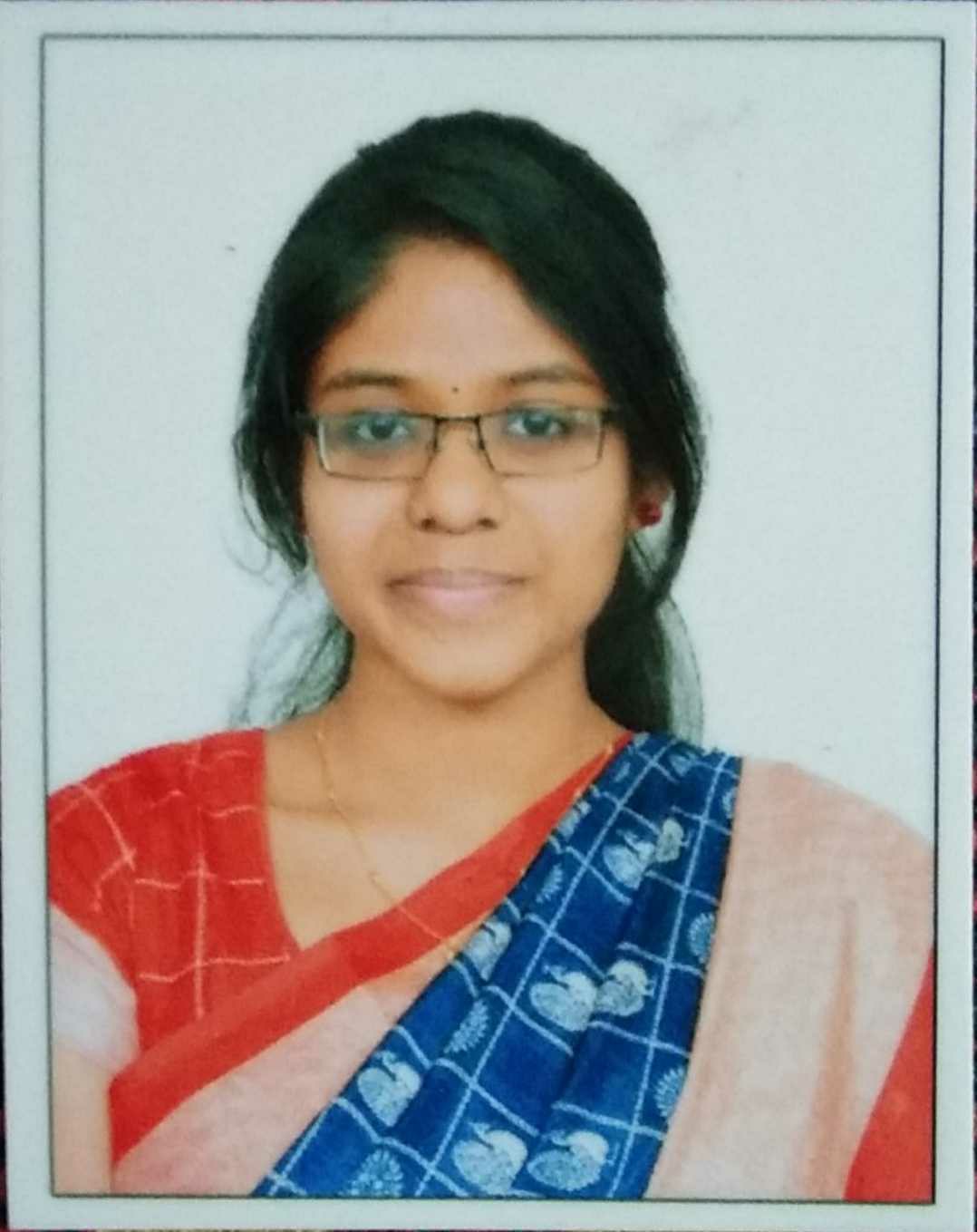 M.Sc Electronic Media
Assistant Professor
Specialization: Animation
Experience: 1 year and 8 months
MBA in Media Management(UGC-NET, TN-SET)
ASSISTANT PROFESSOR
Experience: 1 year and 9 months