Our students union function under the guidance of our dynamic Principal Dr.R.Geetha .Our Principal is the President of the union.
College Union : Vice Principals
Dr.P.BEENA (AIDED)-DEPARTMENT OF ENGLISH
Dr.S.SEETHALAKSHMI (SELF FINANCE)-DEPARTMENT OF COMMERCE-GENERAL
UNION STAFF MEMBERS:
AIDED:
Dr.G.GAYATHRI DEVI

DEAN OF STUDENT AFFAIRS,ASSISTANT PROFESSOR,DEPARTMENT OF COMPUTER SCIENCE

Dr.S. SHARMILA

UNION VICE PRESIDENT,ASSISTANT PROFESSOR,DEPARTMENT OF ENGLISH

Mrs.C.BALASARASWATHY

UNION VICE PRESIDENT,ASSISTANT PROFESSOR,DEPARTMENT OF TAMIL
SELF FINANCE:
Mrs.M.LAVANYA

DEAN OF STUDENT AFFAIRS, ASSISTANT PROFESSOR, DEPARTMENT OF COMPUTER SCIENCE

Dr.D.KANAJA DEVI

UNION VICE PRESIDENT,ASSISTANT PROFESSOR,DEPARTMENT OF TAMIL

Dr.S.KAVITHA

UNION VICE PRESIDENT,ASSISTANT PROFESSOR,DEPARTMENT OF MATHEMATICS

Ms.S.SARAH PRISCILLA

UNION VICE PRESIDENT,ASSISTANT PROFESSOR,DEPARTMENT NFSMD

Dr.T.PREETHI

UNION VICE PRESIDENT,ASSISTANT PROFESSOR,DEPARTMENT OF CHEMISTRY
STUDENTS' UNION OFFICE BEARERS
AIDED
| | | | | |
| --- | --- | --- | --- | --- |
| S.NO. | POST | NAME | DEPARTMENT | CLASS |
| 1 | PRESIDENT | S.VAISHALI | B.COM(GEN) | III |
| 2 | SECRETARY | K.ARCHANA | B.COM(GEN) | II |
| 3 | JOINT SECRETARY | JANANI PRIYA.R | B.Sc(COMP.SCI) | I |
| 4 | FINE ARTS PRESIDENT | SAI NAVEENA.B | B.A(ENGLISH) | III |
| 5 | SPORTS PRESIDENT | MONISHA.R | B.COM | III |
SELF FINANCE
| | | | | |
| --- | --- | --- | --- | --- |
| S.NO. | POST | NAME | DEPARTMENT | CLASS |
| 1 | PG PRESIDENT | PAVITHRA.R | M.COM(GEN) | II |
| 2 | UG PRESIDENT | MOHIDEEN KHALIFATHUNNISSA.J | B.Sc (MATHEMATICS) | III |
| 3 | VICE PRESIDENT I | MADHUMITA.M | BBA | III |
| 4 | VICE PRESIDENT II | KRUTHEE.V | B.COM(GEN) | III |
| 5 | FINE ARTS PRESIDENT | VAISHNAVI.B | B.COM(A&F) | III |
| 6 | FINE ARTS JOINT SECRETARY | LAKSHMI KRITHIKA.S | B.COM(GEN) | |
| 7 | VICE PRESIDENT -SPORTS | THANUJA.M | B.COM(CS) | III |
| 8 | SECRETARY | ATCHAYAA.U | B.COM(ISM) | II |
| 9 | JOINT SECRETARY | SNEHA KOTHARI | BCA | I |
Union Activities 2019-20
| | |
| --- | --- |
| DATE | PROGRAMME |
| 17.06.2019 | Orientation for 1st years |
| 18.06.2019 | Department orientation, campus visit |
| 19.06.2019 | Motivational speech |
| 20.06.2019 | Isha yoga class |
| 21.06.2019 | Freshers day |
| 05.07.2019 | BSNL orientation |
| 08.07.2019-11.07.2019 | Student counselling |
| 18.07.2019 | Cleanliness awareness by Mrs. Mariam |
| 24.07.2019 | Union Inauguration 2019-20 |
| 07.08.2019 | SRK IAS academy- Orientation |
| 14.08.2019 | DIGIKAUSHAL orientation |
| 15.08.2019 | Independence day |
| 22.08.2019 | Krishna Jayanthi Celebration |
| 03.09.2019 | Cauvery rally |
| 04.09.2019 | TCS Orientation |
| 05.09.2019 | Teachers day celebration |
| 14.09.2019 | Onam celebration |
| 01.10.2019 | Gandhi jayanthi celebration |
| 12.12.2019 | Jaladhi Foundation Awareness Program |
| 12.12.2019 | Kavalan SOS app launch |
| 12.12.2019 | Vaish Quest- Student forum inauguration |
UNION ACTIVITIES 2K19-2020
1ST YEAR STUDENT INDUCTION PROGRAMME 2019 – 2020
A new beginning for all the first year undergraduates students (Aided & SFS – 2177 Students) that the first day of induction programme on 17th June 2019 through which all the students entered the new world of education. The objectives of the programme are to make the students feel comfortable in their new environment, open them up, set a healthy routine, create bonding in the batch as well as between faculty and students, develop awareness. Understand the self and people around them and society at large and nature.
DAY 1 – 17/06/2019 – ORIENTATION
The programme started with the college prayer. Principal Dr.R.Geetha welcomed the gathering and gave a brief orientation about the college and functionalities through a Power point presentation .The presentation was about the organisational culture, values, goals, co- curricular activities, extra- curricular activities , Examination Pattern, placement opportunities, infrastructural facilities, hostel facilities, life skill training, research programmes etc. She motivated e students to fix goal in life and work harder with dedication and loyalty to grab the opportunity and also assisted students to realise their potential. Principal also introduced college Students' Union office bearers to the new buds. .
Dr.P.Beena, Vice principal encouraged the students by narrating a small story to boost their confidence.Dr.Seetha Lakshmi, Vice Principal(SFS) made her gracious presence. Programme ended wiith vote of thanks proposed by Ms.Vaishali , Students' Union President.
DAY 2 – 18/06/2019 – DEPARTMENT ORIENTATION, CAMPUS TOUR & PEER INTERACTION
The second day of the induction programme was department orientation, where Head of the department with faculty members met the students. They were detailed about the genesis of the department, values of the department, relevance of the course, achievements of the department, syllabus, importance of the exams, discipline, rapport with the department, ward- tutor role in academics.
Campus tour was organised for the freshers to get familiarised with the college atmosphere. The campus tour for the freshers was guided by senior students. Campus tour was their first leap into familiarity.
DAY 3 – 19/06/2019 – MOTIVIATIONAL SPEEECH
Student development programme on student motivation was organised for the freshers on 19.06.2019. Vice Principal Dr.P.Beena welcomed the gathering and introduced the guest speaker Mrs.UshaRamakrishnan, director, Global Adjustments Foundation. The insights into the value of life, empowerment of women, social responsibility, and confident career path has created a great impact on students. The speech was vivacious and lively.
The presenter who herself is a source of motivation to students gave encouraging examples from her own life and inspired students to be a self motivator.
DAY 4 – 20/06/2019 – INTERNATIONAL YOGA DAY CELEBRATION, NSS & NCC ORIENTATION
On account of international yoga day a session on importance on benefits of yoga was conducted on 20.06.2019. Vice Principal Dr.P.Beena welcomed the gathering and introduced the guest of the day, Mrs.N.Srividya, member and yoga trainer of Isha Yoga.
Mamta.D.Bhatt, chairperson, S.D.N.B Vaishnav College and Mrs.Bhavana shah, committee member was amidst to encourage the students.
Mrs.N.Srividya with her team members presented the session with power point presentation and videos. The team instructed the students in performing the asanas and pranayamas and also guided the students with different asanas and explained their importance in real life. The students were full of exuberance and participated enthusiastically.
NCC orientation has presented by Dr.K.Kanthimathi, coordinator of NCC with cadets bringing awareness on NCC and benefits being part of it.
NSS orientation was presented by Dr.Amudha, NSS programme officer with NSS volunteers detailing activities of NSS, importance of social service and benefits of being a part of it.
DAY 5 – 21.06.2019 – FRESHERS DAY CELEBRATION
Freshers day is a platform where seniors welcome juniors. 21st June 2019 was a memorable day in the life of every fresher of SDNB Vaishnav College. The freshers' day was filled with excitement, joy, music, enthusiasm, laughter and happiness. The event started with invocation. First performance was classical dance followed by solo singing, solo dance, group dance etc. The anchors took the performance till the end enthusiastically. They acted as fillers in between the performances. Freshers at last gave their feedback. Finally vote of thanks was proposed by Archana.k, Students' Union Secretary.
22-01-2020- ELECTION AWARENESS PROGRAM
in order to create awareness on the importance of voting rights. Rangoli competition was held on 22-01-2020 by the union along with election commission. Deputy thahsildhar and other officers inspected the Rangolis made by the students related to the theme of election. Students enthusiastically participated and made informative Rangolis. The best Rangolis were selected by our college staff.
21-02-2020 -MATRIBHASHA DIWAS
Language is the road map of a culture. It tells you where its people come from and where they are going. Mother tongue has its own power. International mother language day is widely celebrated on 21.02.2020. International mother language day is a moment for all of us to raise the flag for the importance of mother tongue to all . It is an educational effort to enhance the quality of learning to reach the unreached. Our college conducted various cultural activities such as elocution, painting and singing to celebrate international mother language day. Students enthusiastically participated in the competitions and won prizes. Ms. Thilagavathy, Assistant Professor, Department of English, judged elocution event. Mrs. Hema, Assistant Professor Department of English judged singing event. Dr. R. Indira, Assistant professor, PG Department of Chemistry and Mrs. Harini, Assistant Professor, Department of B.com (ISM) judged painting event.
MATRIBASHA DIWAS – HINDI DEPARTMENT CELEBRATION
Matribhasha Diwas was also celebrated by Hindi Department on 20.02.2020 to promote the use of mother language. Students participated in various activities which induce the importance of mother language.
Pongal celebration
Pongal Celebration was held on 11'th January, 2020, Students from all the departments enthusiastically took part in preparing Pongal and showcasing the tradition of Tamil Nadu, thereby understanding the importance of UzhavarThirunaal. Departments with the best creativity won prizes.
http://www.sdnbvc.edu.in/wp-content/uploads/2020/01/VID-20200113-WA0003.mp4
05.07.2019- BSNL ORIENTATION
The coordinators from BSNL presented an orientation on 05.07.2019 at 9.00 am. Our Vice principal, Dr.P.Beena, introduced the dignitaries of the day and gave a speech on the importance of the impending training course provided by BSNL. Mr.Ramesh, AGM, BSNL addressed the gathering on the various training courses provided by them. Mrs.VIjayalakshmi sub divisional engineer of BSNL presented a PPT on the courses offered. Mr.Sakthivel, AGM, Mrs.Ajitha, AGM, Mrs.Bagyalakshmi, sub divisional engineer of BSNL spoke the opportunities for young minds in the field of telecommunication. Students asked many questions regarding the courses and the facilitators helped them with their expertise. Finally, vote of thanks was proposed by JananiPriya, Joint Secretary, Students' union.
08.07.2019-11.07.2019- STUDENT COUNSELLING FOR FIRST YEARS
Dr.Nandhini Narayanan, Students' counsellor of our institution addressed the first year students and spoke on students' strength and weakness. She also encouraged them to share their thought processes to ease their life.
18.07.2019– CLEANLINESSAWARENESS
Mrs.Mariam, head of maintainance of cleanliness conducted cleanliness awareness programme for all the years of our college. She spoke about the importance of classroom and restroom cleanliness and hygiene which are essential especially for girls. She explained in detail about the need to keep the restrooms clean.
24.07.2019 – UNION INAUGURATION
The student union for the academic year 2019-2020 was inaugurated on 24.07.2019 at 10.30 am. Our honourable chief guest was Dr.Sumithra Prasad, general secretary DORAI foundation, Facilitator/Mentor SAI centre. The programme started by lighting the lamp by our chief guest and principal. Office bearers' of the students' union 2019-2020 took oath.Dr.R.Geetha, our college principal delivered the welcome address and presented a brief report on the college activities (both academic and extracurricular) and Union activities and introduced the Students' Union Office Bearers,
STUDENT UNION OFFICE BEARERS (Aided & SFS):
Vaishali. S
Mohideenkhalifathunnissa.J
Pavithra.R
Madhumitha.M
Kruthee.V
Archana.K
Atchayaa.U
Jananipriya.R
Snehakothari
Sainaveena.B
Vaishnavi.B
Lakshmi krithika.S
Monisha.R
Thanuja.M
07.08.2019- IAS ORIENTATION BY SRK ACADEMY
IAS orientation programme was conducted by SRK academy. Our vice principal, Dr.P.BEENA welcomed the facilitators. Mr. Uma Shankar, SRK IAS ACADEMY presented a PowerPoint presentation to all the final year students on various courses available. Details about the various government examinations and the required study materials were discussed during the session. Mrs.Fathimapatoudi, SRK IAS ACADEMY shared her personal experience to all the students. The students asked various doubts regarding the course fees and time required for the course. The students were given forms to fill up regarding their interest to write government exams. Finally, vote of thanks was proposed by Archana.k, Students'UnionSecretary.
14.08.2019- DIGIKAUSHAL ORIENTATION
DIGIKAUSHL orientation was conducted for 3rd year Students at our college on 14th august 2019 at 9.00 am. It is a global community of students, teachers, institution and employers, focused on excelling in digital skills. Here, students receive certified digital transformation courses that meet the highest global industry standards. The coordinator presented a PPT on new global marketing techniques and the scope of digital marketing in the new corporate world. The programme ended with interaction session.
15.08.2019 – INDEPENDENCE DAY
Independence Day was celebrated in our college at 7:30am. Honourable principal&VicePrinicipals were present for the programme. Our principal, Dr.RGeetha hoisted the flag. The program was hosted by Archana k, Students'Union Secretary. The students gave speech on Independence Day. Various cultural activities were performed by our college students. OurPrincipalgave a speech with much needed words of wisdom for the students. Many art works done by students were displayed in our college premises. Finally, vote of thanks was proposed by Vaishali.s, Student's Union President. Sweets were distributed to all the students.
17.08.2019- GRADUATION DAY
THE S.D.N.B VAISHNAV COLLEGE FOR WOMEN promoting women's education celebrated their 2019 graduation day on 17-08-2019. The event was adorned by all the graduates and the chief guest for this wonderful day was Dr. K.MINRAJ, Dean College development council, Madras University. The graduation event begun with the Tamil Thai vazhthu. Our honourable principal welcomed the chief guests and the gathering at 10:45am and the chief guest addressed the graduates with his wonderful speech on women education and empowerment. The speech was followed by the distribution of certificates to the UG graduates and PG graduates and the graduates took oath and program ended with national anthem.
22.08.2019- KRISHNA JAYANTHI CELEBRATIONS
Krishna jayanthi celebrations were held in main auditorium. The program commenced at 11:30am. Our honourable principal along with our chief guest, SukritiMadhavi from ISCON and our union staff members started the pooja ceremony. Our princiapal felicitated the chief guest with a momentum. The chief guest addressed the gathering and explained about six opulence. Students performed a drama portraying lord Krishna's story. Finally, vote of thanks was proposed by Jananipriya, students' union joint secretary.
RALLY FOR RIVER CAUVERY
04.09.2019- TCS ORIENTATION
The academic inspirant program organised by TATA CONSULTANCY SERVICES along with our college was held on 04.09.2019(Wednesday). The program was conducted by Mr.stephen, TCS. The program was an interactive session which emphasised on creating an interface between education and workspace experience. Mr.Stephen introduced the students to the diploma course in business process services. He gave a detailed account in the working of the industry and the market. He explained how freshers are employed in business related sectors. He also explained the benefits of the course and the marketing strategies. The entire session was friendly and open. He gave advice on what the company expects with the tone of expert. At the end of the session the students were aware of better means of getting hired.
05.09.2019 – TEACHERS DAY CELEBERATIONS
Teachers day celebration was celebrated on 5th September 2019 on remembrance of the former President of India Dr.R.Radhakrishnan. teachers were invited by their students who were filled with great zeal and enthusiasm. Our honourable principal Dr.R.Geetha mam gave a speech on the importance of teachers in a student life. An AV for teachers was presented by students.. Union members organised various games for teachers. Students performed cultural activities to entertain teachers. performance for teachers.
14.09.2019- ONAM CELEBRATIONS
onam celebration was held on September 14th 2019. The programme was organized by the Students' Union. Our respected principal Dr.R.Geethamade her gracious presence. The program started at 11.30 am with prayer followed by Thiruvadhirai dance by our students depicting the cultural dance form of Kerala. AV was presented on the mythological God of Onam and how and why onam is celebrated. Dance and songs were performed by the students.Vote of thanks was proposed by Vaishali.S, Student's Union President.
01.10.2019- GANDHI JAYANTHI CELEBRATIONS
Gandhi jayanthi celebrations was held on 1st October 2019 at the college auditorium. The programme commenced at 11.30 am, the chief guest was Arathusrinivasan, Vijay TV fame and a motivational speaker. The programme was presided over by our principal, Dr.R.Geetha mam, and Vice principals of both aided and self support stream. The anniversary celebrations began with the college prayer. Mohedeenkhaleefathunissa, Student union president, self support stream delivered the welcome address. Chief Guest Mr.ArathuSrinivasanaddressed the gathering on various topics like online safety, women's career safety and greatly insisted on social values which we should implement. An AV on Gandhiji's life history was played. Then students greatly exhibited their talents through various cultural performances likeBharathanatyam,Mime on the current social scenario, Speeches on insight of Gandhiji's deeds, Group dance and Skit Archana, Student's Union Secretary, Aided stream delivered the vote of thanks. The programme ended with the National Anthem.
12.12.2019-JALADHI FOUNDATION
Jaladhi foundation, a nongovernmental organisation conducted a wonderful session with an objective of enhancing awareness for girls in our college. The awareness camp was inaugurated by our honourable chief guest, chairman of jaladhi foundation Dr. Jaladhi Umashankar. The privileged guest of honors Dr. Sreekala, Dr. Tamilselvi, Dr. T.Sujatha venkatesh, Dr. T.N. Vijayashree, Dr. D. Antoinette Mary Nithya. The program started with a lighting of the lamp by the principal and other dignitaries. The chief guest delivered a valuable speech. In his speech he gave much importance to the need for arranging such a program and also he encouraged women to live in their life in a meaningful and authentic way. Dr. Sreekala, MBBS, MS, explained about the preconception helath and care". She also insisted that every women should take her rubella vaccination which prevents birth defects. Dr. Tamilselvi, MBBS, DGO, explained about the imporatne facts of menstrual hygiene. Dr.T.SUjatha, MBBS, shared few words on importance of nutrition to prevent birth defects. She gave a few healthy diet plans. Dr. T.N.Vijayashree, B.Sc, MBBS, D.ch, MD, explained about the awareness on uterus cancer. Dr. D. Antoinette Mary Nithya, MBBS, D.ch, M.D.R.T, briefed about the comparison of women who gets affected with breast cancer between India and USA. Students had a good learning experience that they can remember for a long span of time.
12.12.2019- KAVALAN SOS APP LAUNCH
Awareness about KAVALAN SOS app by Tamil Nadu police was held on 12.12.2019. Tamil Nadu police Dr.K.Prabhakaran, Deputy Commisioner of Police, law and order, St. Thomas Mount and Mr.K.Sahadevan, Assistant commissioner of police, Selaiyur, created awareness about eh KAVALAN SOS app specially designed for womens safety. Dr.K.Prabhakaran, demonstrated the working of the application. He asked the students to install the app in their mobile phones so as to alert the police officers whenever they are in any in dispute. We are very thankful for the hardwork, the TN police have displayed in safeguarding us.
16.12.2019- STUDENTS FORUM 2K19- VAISH QUEST
"The most powerful weapon on earth is the human soul on fire"
Students forum- " VAISH QUEST" was inaugurated on 12-12-2019 by DCP PRABAKARAN ,Dr.R.Geetha , Principal and Dr.P.Beena, vice principal. The very first attempt to create a forum to display the hidden talents of the students on 16-12-2109(Monday). Different acts like dance, drama, essay, short stories,poetry,posters etc. were performed on the theme "VALUES OF MODERN YOUNG GENERATION". Nearly 150 students participated enthusiastically .The judging panel consisted of association secretaries of different departments. The students found this as an effective way to exhibit their talents and learn new things. The mini auditorium was filled with excitement throughout the program. Appreciation Certificates were awarded for the best 5 performances.
16.12.2019– NATURAL GROOMING SESSION
Naturals grooming session was held on 16.12.2019 for final year students who are going to appear for interviews. It was organised to help the students to face the interviews boldly. Ms. Sivagami Nagarajan, centre manager explained about the various beauty care tips. Ms. Krithika, trainee, NATURALS, demonstrated how to apply makeup and enlightened the students about the importance of personal hygiene and presentability. Ms. Sri Priya, Faculty trainee, briefed about the different kinds of beauty products. Students found it very useful and informative.
18.12.2019– IMS INFORMATION SESSION
IMS INFORMATION SESSION was held on 18.12.2019. IMS has been a pioneer in preparing students for various national and international entrance exams at various levels. Mr.Jayadev, Lead mentor from IMS, Chennai explained about the various training sessions for entrance exams like CAT,CET,GLAT,CMAT,GMAT at national and international levels. He also explained about the online test series which help the students to prepare for the exams. He encouraged the students to do Post graduate degree to enhance their professional career.
19.12.2019- NEW YEAR CELEBRATION
New Year celebration was held on 19.12.2019. our college Principal Dr.R.Geetha and vice Principal Dr.P.Beena graced the occasion. Students performed various activities on the eve of New Year and Christmas. Mercy and Haritha agave a dance performance, Anusuya and Priyadharshini performed a semi classical dance. Students also gave a mime performance about the birth of Jesus. Students and teachers interacted about their new year resolutions. The final year and second year students enjoyed the programmes thoroughly.
CONSTITUTION DAY
On commemorating 'Constitution day', essay competition was held on 06.12.2019. The topic for the essay competition was "Power of women in Indian constitution". Students wrote essays in English and Tamil. Quiz competition related to Indian constitution was held on 20.01.2020 by the passed out students of history department. Prelims, executory and final rounds were conducted to choose the winners for the quiz competition. Students took part in different competitions and won prizes.
UNION ACTIVITIES 2018-19
ORIENTATION FOR I YEARS
Orientation programme was conducted for the first year students on 24th July, 2018Principal and other faculty introduced the facilities and infrastructure of the college that supports students' education and personal goals.
FRESHER'S DAY
Fresher's Day was celebrated on 27th July, 2018 to welcome the 1styear students. The seniors of various departments welcomed the fresher's with various cultural programmes like dances, skits, etc. to entertain the 1styear students.
UNION INAUGURATION
On 6th August 2018, the college students' Union was inaugurated. Mr.G.Olivannan, CEO of Emerald Publishers, Chennai inducted the union office bearers to their posts. He gave a speech on "RAS-Reticular Activating System"
COLOURS DAY
Colours Day was celebrated on 10th August 2018. In order to promote Eco-friendly habits and sensitise our students to the environment, Our students represented themselves in green colour outfits.
KERALA FLOOD RESCUE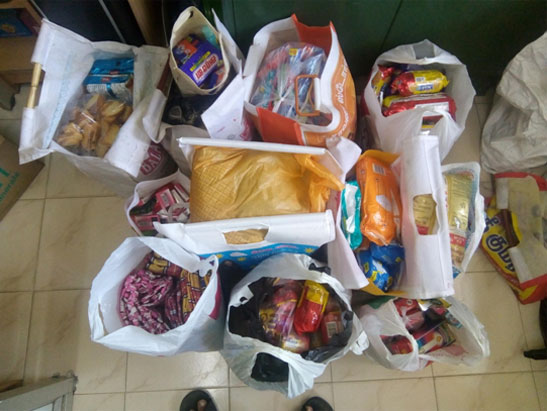 For the people affected in Kerala floods, the students union transported rescue materials like cloths, biscuits, sanitary napkins, medicines, etcworth more than 30,000/- which were generously given by the students.
ETHNIC DAY
Ethnic day was celebrated on 31st August 2018. The students of our college wore ethnic costumes to enjoy the cultural unity on the day. A Ramp walk was conducted in which the students celebrated the traditional attires of various states of India.
KRISHNA JAYANTHI
Krishna Jayanthi was celebrated on 1st September, 2018. The students performedeventslike traditional dance, bhajan,in praise of Lord Krishna.
INDEPENDENCE DAY
72nd Independence Day was celebrated in our campus on 15th August, 2018. Our Principal Dr. R.Geetha hoisted the tricolour national flag. Many cultural events were performed by our students to reassure the importance of patriotism.
TEACHER'S DAY
In order to honour the teachers of our college, the students conducted various programmes to entertain the teachers on 05th September, 2018.
GANDHI JAYANTHI
Gandhi Jayanthi was celebrated on October 2nd, Students performed various programmes signifying the ideas of Gandhiji, particularly highlighting the importance of women in social context.
NEHRU MAMA SHORTFILM
A short film called "Nehru Mama" was screened to the 1st year students on 4th October, 2018. The short film was based on the life of Jawaharlal Nehru.
WORLD TEACHER'S DAY
World Teacher's Day was celebrated on 8th October 2018. The teachers were honoured for their service to the students' community.
SARASWATHI POOJA AND VIJAYADASAMI
On 18th October 2018, SaraswathiPooja was celebrated in all the departments. Students dressed up traditionally and enjoyed the special occasion.
FOOD SHARING DAY
Food sharing day was celebrated in our campus as an attempt to inculcate the habit of sharing and intensifying the helping tendencies of the students.
AIDS AWARENESS DAY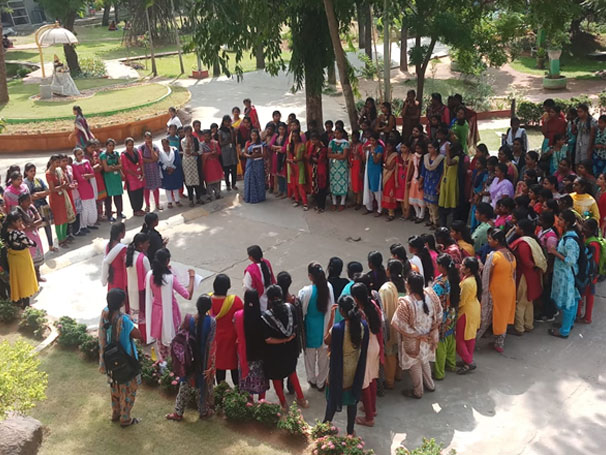 International AIDS awareness day was observed on 01st December 2018. The students presented a mime show about AIDS, the ways to prevent the disease and to destroy the stigma over the diseased.
LETTER WRITING DAY
With the advent of Smartphones and Mail communication, Letter writing has become a lost skill now. On 7th December 2018, Letter writing day was held. Students gave form and expression to their thoughts by writing letters.
HUMAN RIGHTS DAY
International Human Rights Day was celebrated on 10th December 2018, to create awareness about human rights. Students performed various activities like mime, speech etc insisting their rights.
BHARATHIYAR'S 136th BIRTH ANNIVERSARY
As a token of reverence to Mahakavi Bharathiyar, on 11th December 2018, 136th birth anniversary was celebrated in our college. Poster making competition was held on the title, "ACHAM THAVIR"
CHRISTMAS AND NEW YEAR CELEBRATION
Christmas and New Year was celebrated in the college auditorium on 21st December 2018. Students performed various activities like Dance, Skit, Song with great fanfare and enthusiasm to welcome the new year 2019.
CAREER AWARENESS
On 7th January 2019, Mrs.Usha Ramakrishnan, member of Global Adjustments Foundation addressed the 1st year studentsabout the new ABCD formula that is amazing Attitude, Brilliant bachelor's degree, Clear Career path and Distanced Distractions.
PONGAL CELEBRATION
On 12th January 2019, Students from all the departments enthusiastically took part in preparing Pongal and showcasing the tradition of Tamil Nadu, thereby understanding the importance of UzhavarThirunaal. Departments with the best creativity won prizes.
VOTER'S DAY
Voter's Day was celebrated on 25th January 2019 in our campus. Rangoli and Essay Writing Competitions were held on the topic Voting Rights'. Students took oath on that day not to give up their voting rights.
REPUBLIC DAY
On 26th January 2019 Republic Day was celebrated, Dr. Suresh , Assistant professor at Chengalpet medical college hoisted the Tri- color National Flag and addressed the students about the need for social mobility and collective responsibility . Students performed dance, mime show and skit to reassure the sense of comrade, fraternity, and citizenship.
FAREWELL TO RETIRED STAFF
Student Union has given farewell to our retired Staff Smt.R.Mangayarkarasi,Associate professor and Head , Department of English, on January 30th 2019 . Students from various departments shared their experience and thoughts about her with all the students.
CAREER COUNSELLING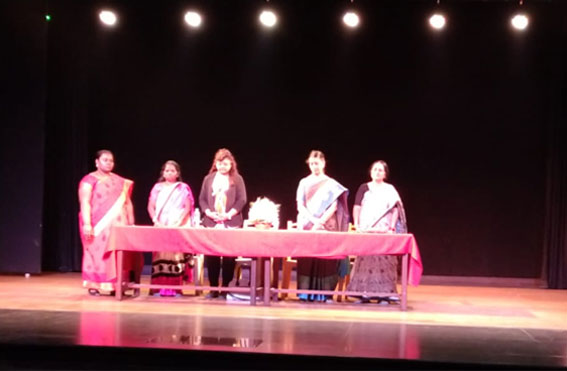 On 7th February 2019, Ms. Uma Panch, founder of Beyond Bliss Personal & Corporate Wellness,gave the students a speech on self confidence and the need to be self- motivated.
CAREER ADVANCEMENT PROGRAMME
On 4th March 2019, Ms.Usha Ramakrishnan, Member of Global Adjustments Foundation addressed the students about the significance of career and how to balance between career and personal life after marriage.
WOMEN'S DAY CELEBRATION
A great sense and feeling of prideprevailed in the air during the Women's Day celebrations on 8th March 2019. Chief Guest Mrs. NivedithaLouis, Historian and journalist, gave the students an envisionary session on the women achievers in various fields. The celebrations also had a skit performance and an interview session with the student achievers of our college.
SUICIDE AWARENESS PROGRAMME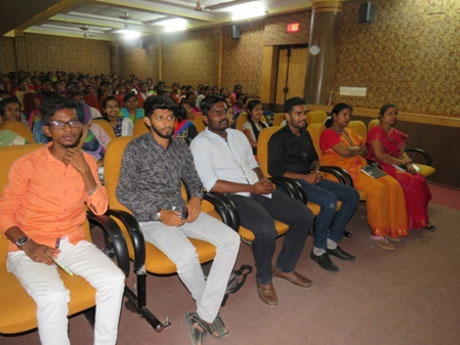 On 16th March 2019, Mr. Khalid Ahmed, founder of Uravugal Trust, (an association of members between 18 and 25 years of age)addressed the students on the importance of parenting, maintaining balance in relationship and being a self-sufficient individual.
HOLI CELEBRATION
The festival ofcoloursHoli was celebrated on 21th, March, 2019 in our College campus. Students played with coloured water and powders with each other to show their loveand greetings.
COLLEGE DAY
College day was celebrated on 25th March 2019. Mrs.Jayashree Menon Kurup, Former Director, IGNOU and UGC Nominee, addressed the students on Women Empowerment. Proficiency winners and Best Out going students were honoured.
GANDHIJI'S 150TH YEAR BIRTH ANNIVERSARY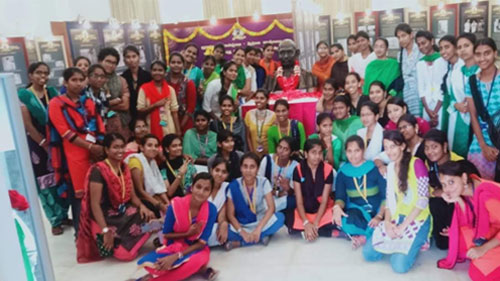 On 26th March 2019, Gandhiji's 150th Birth Anniversary was celebrated at Raj Bhavan (Governor Palace). Around 50 students participated in the Photo exhibition conducted by the government.
VALEDICTORY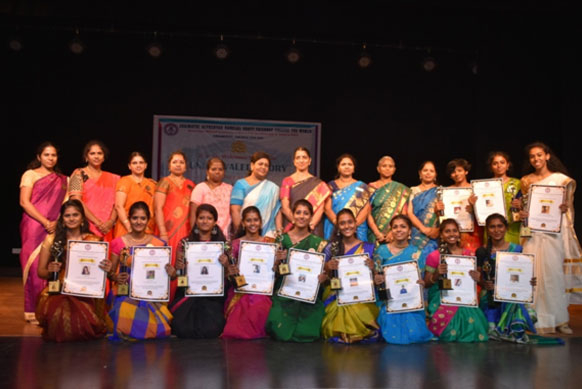 Students' Union Valedictory was held on 28.03.2019 (Thursday) in college Auditorium at 11.00 am. Tmt.U.UmaDevi , Additional Commissioner of Labour Departmentwas the chief guest of the event, she gave a speech on Women empowerment. The chief guest distributed the prizes to the students. The union office bearers of the upcoming academic year (2019-2020) were introduced.