Our College is one among selected Higher Education Institutions (HEIs) under Ministry of Human Resource Development (MHRD), Govt. of India, for establishing Institution's Innovation Council (IIC) working under 'MHRD's Innovation Cell (MIC)' . This Council aims to promote innovation by providing eco-system in our campus and also by identifying, mentoring, nurturing innovative and entrepreneurial potential of students and transforming them into start-up entrepreneurs by provided avenues of funding, investment opportunities and networking support to make the innovation and venture successful.
MUSHROOM CULTIVATON TRAINING PROGRAM
Institution Innovation Council(IIC) organized a training program for students in "Mushroom Cultivation" from 18/2/2021 to 20/3/2021.


BUILDING A PRODUCT FIT FOR MARKET – IIC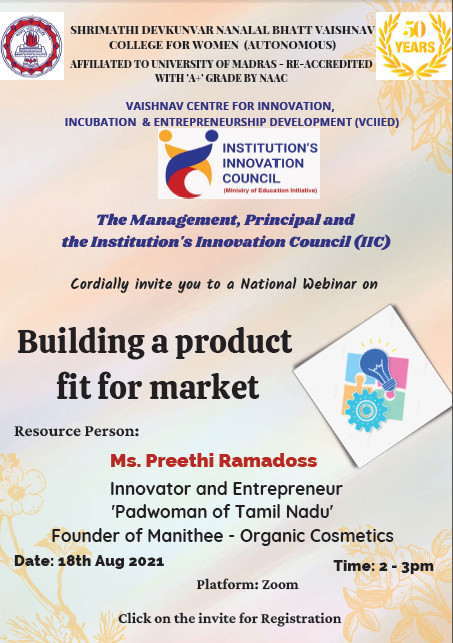 Webinar on Energy conservation
IIC & Environment Club of SDNBVC
Make your dream idea into reality with IICs help!! VCIIED is organizing the "SUSTAIN TRAIN IDEATHON" for the students of SDNBVC to present their business ideas and make it a startup! Gear up with your ideas and get ready to present them on March 3, 2023…

Members are:
Ms.Harini R – President
Dr.N.Nagamalar – Vice President & Social Media Coordinator
Ms.Divya Prabha P – Convener & Innovation Activity Coordinator
Ms.Lakshmi T.S – Startup Activity Coordinator
Dr.Preethi Thangaraj – IPR Activity Coordinator
Dr. R.Sangeetha – Social Media Coordinator
Ms. R.Jayshree – Social Media Student Coordinator