ABOUT THE DEPARTMENT
The prime objective of this programme is to build a strong foundation in activities relating to the functions of corporate undertakings.
Bachelor of Commerce in Corporate Secretaryship course helps in understanding the key skills required by an efficient administrator and enable students to effectively contribute to a dynamic organization.
The combination of core skills and specialist knowledge learnt in this course will ensure the students to adapt effectively to the ever-changing business environment and as a result be in high demand with employers.
The programme will facilitate the learners in obtaining lucrative career options in corporate sector and also equips them to undertake courses like company secretaries, chartered accountancy, cost and work accountants and M.B.A.
B.COM. IN CORPORATE SECRETARYSHIP: CAREER PROSPECTS
Business Secretaries provide a wide array of clerical and managerial services to business executives and upper-level managers. With growing impact of advances in information technology on businesses, such Secretaries are increasingly needed to be trained in diverse business-related computer applications.
However, students specializing in corporate transcription can work as independent contractors for multiple businesses and corporations, or as specialists in a particular industry, such as automotive engineering, computer programming, and such.
There are opportunities to go for companies that are listed on the stock exchange as company secretary.
Big co-operative firms also hire company secretaries.
Students can also go for government jobs such as government accountants-they may work at the local/state level or the central level, administer and formulate budgets, track costs and analyze programs.
Inter Collegiate Competition  – B.Com Corporate Secretaryship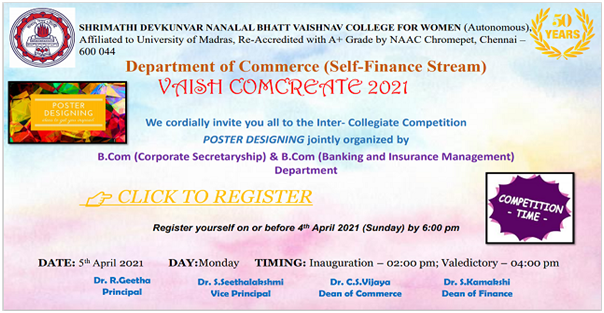 B. COM CORPORATE SECRETARYSHIP and B. COM BANKING AND INSURANCE MANAGEMENT organised a INTER COLLEGIATE COMPETITION on the Title COMCREATE 2021 – POSTER DESIGNING
Comcreate 2021 Poster Designing is an Inter Collegiate Competition which was a competition between various colleges and was conducted through Online mode. Students from various colleges actively participated and expressed their creative thoughts through posters in the competition. Every year our college conducts various events and competitions for all the students.
Dr. V. ANDAL,
Associate Professor & Research Supervisor,
Department of Commerce (A and F),
Vels Institute of Science, Technology and Advanced Studies,
Chennai.
Ms. P. SHARANYA, Assistant Professor, Department of Commerce, Stella Maris College, Chennai.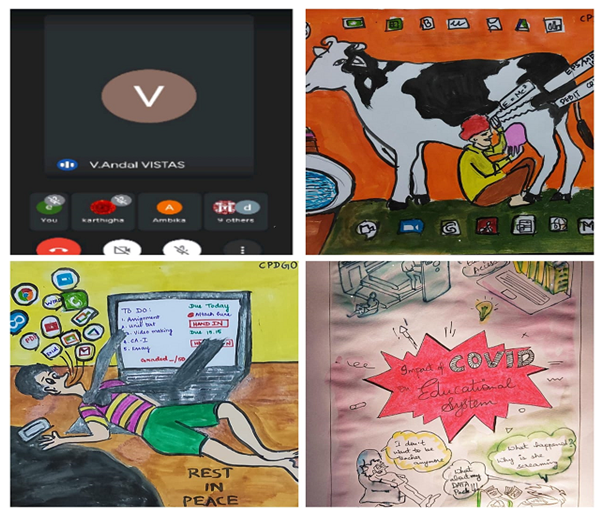 B. COM CORPORATE SECRETARYSHIP and B. COM BANKING AND INSURANCE MANAGEMENT Organised a event on COMCREATE 2021 – PRODUCT PACKAGING
Comcreate 2021 – Product Packaging is an Inter Departmental Competition which was conducted through Online mode. Students from various departments actively participated and showcased their talents. The college conducts various competitions all the years to make students exhibit their creative skills.
SPEAKER / CHIEF GUEST:
Dr. PRIYA REDDY
Assistant Professor
Head of the Department, B. COM Honours
Dr. A. PARVIN
Assistant Professor,
Department of Hindi
Staff Details
Dr.K.Shyamala, M.Com., M.Phil., MBA., PGDCA., Ph.D.
Mrs.K.Nirmala , M.Com., M.Phil., MBA, NET
Mrs.E.Kavitha, M.Com., M.phil.,
Mrs. J.Jesus Rani, M.Com., M.phil.,
Mrs. U.RehanaFathima , M.Com., M.phil., SET,NET
Dr.M.Revathy, M.Com., Ph.D, SET
Mrs. S.M.Akila , M.Com., M.Phil.
Dr. P.Aruna Devi, M.Com., M.Phil.,
Mrs. B. Radhika, M.Com., M.Phil., SET, NET
Mrs.N.Sukanya, M.Com.,M.Phil., TNSET
DEPARTMENT ASSOCIATION ACTIVITY
EVENT : PRODUCT PACKAGING
Packing is the activity of designing and producing the container or wrapper for the product. It is an important effective sales tool for encouraging the consumers for buying. Marketing success or failure of many products specially for non durable consumer product. It not only provides protection to product but also act as promotional tool.
EVENT: T-SHIRT PAINTING
Art is essentially about self expression. T-shirt painting is another fun way to express who you are. Using fabric paint and paint brushes, paint designs onto the t-shirts.
FACULTY DETAILS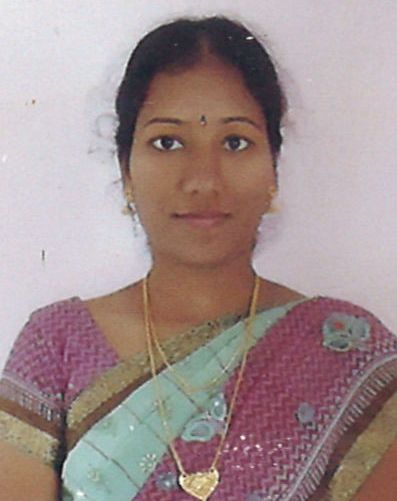 M.Com.,M.Phil.,PhD.,
ASSISTANT PROFESSOR
Specialization: Commerce
Experience: 3 Months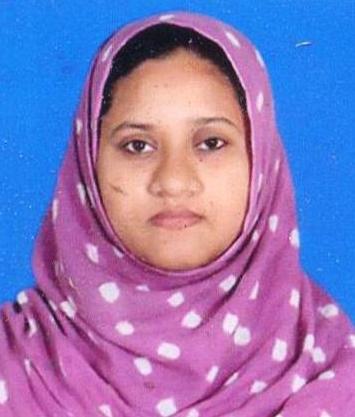 M.Com.,M.Phil.,NET.,
ASSISTANT PROFESSOR
Specialization: Commerce
Experience: 4 Years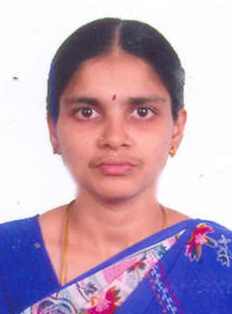 M.Com.,M.Phil.,MBA.,PGDCA.,PhD.,
ASSISTANT PROFESSOR
Specialization: Marketing and Finance
Experience: 10 Years