ABOUT THE DEPARTMENT
The Department of Commerce (Self supporting) was started in the year 1984-85. Third batch was started in 2009-10. In view of the consistent demand for the course in the new millennium, the fourth batch was introduced with 70 students in the year 2017-18. Nearly 850 students are pursuing B.Com( Gen) degree course in the Self support stream as of 2019-20.
With an aim at maintaining academic excellence equipping women aspirants with the skills necessary to face the challenge of the business world, the Undergraduate program offers innovative syllabi which cater to the varying needs of the students. The Department encourages students to pursue professional courses (ICWAI, ACS, CMA ) and TCS Certificate courses in our college as this college acts as the study centre.
JOB OPPORTUNITIES
Department of commerce equally trains students for the placement along with their academic syllabus, different companies are invited to address the students to bridge the knowledge gap between employment and academics. Exclusive training programs in soft skills, arthavidhya, aptitude and online tests are given to students to assess their skills. It provides optimum opportunities for all the students to fetch most suited placement in different career opportunities like
Chartered Accountant & Auditor
Tax advisor services
Financial services
Banking sectors
Insurance services
Telecommunication services & BPO
Manufacturing services
Company secretary
Teaching profession
Government clerks (passing civil services exam)
HR officials
Training & Development manager
Other sector includes Automobile, Hospitality, media, Information and Technology services.
STAFF DETAILS
B.Com General
Dr. Seethalakshmi .S, M.Com., M.Phil., Ph.D, ICWAI., NET, Associate Professor, Vice Principal (Self support Stream)
Mrs. N. Chitralekha, M.Com., M.Phil.,SET (Head –in-charge)
Mrs. Mehala. R, M.Com., B.Ed., M.B.A, M.Phil.,
Mrs. Gayathri V, M.Com., M.Phil.,NET
Mrs. Amalya Rani. S, M.Com., B.Ed., M.Phil.,
Mrs. Vinothani, G. M, M.Com., M.Phil.,
Mrs. Geetha V.M, M.Com., M.Phil.,NET
Mrs. Mohanapriya. A, M.Com., M.Phil., ICWAI (Inter)
Mrs. Priya .T.P, M.Com., M.Phil.,
Mrs. Fathima Farhana .S .I, M.Com., SET.,
Ms. Asma Zainab, M.Com., SET., NET.,
Mrs.V.Brinda Devi M.Com.,M.Phil.,NET.,
Ms.Jayadharini M.Com.,NET., 2016 .,SLET: Mother Theresa University 2016
Ms.Sumetha M.Com.,Ph.D
Ms.Devayani NET., SET (KERALA)
Mrs.R.Neela Anuradha M.com.,M.phil., SET
Ms.Christian Mercy R M.A.,M.Phil (Economics) NET.,SET
Ms.S.Bharani Lakshmi M.Com.,M.Phil.,NET
Dr.Agatha Judith Caroline M.Com.,B.Ed.,M.Phil.,Ph.D.
Ms.Iswarya R M.Com.,NET
Responsible Disposal of e-waste Awareness Program on 22nd Sep by TATA Volunteering week 18 Initiatives
Department of Commerce(SFS) conduct a SPECIAL LECTURE ON 'ENHANCING EMPLOYABILITY SKILLS'
Resource Person: CMA. DR. G.JAWAHAR BABU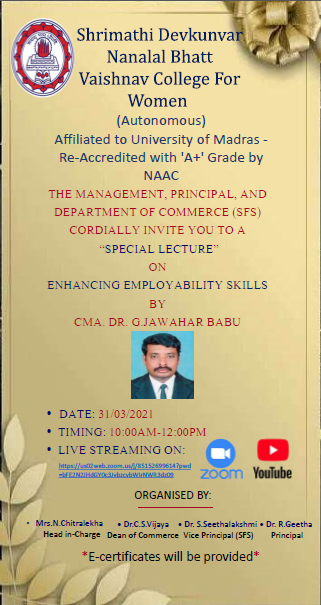 ASSOCIATION ACTIVITY
2017-2018: The department has conducted inter-department Business Quiz competition. Business Connextions was conducted as a part of Comfest 2017 (Inter Collegiate)2017-18
2018-2019: The department has conducted inter-department Business Quiz competition. Block & Tackle was conducted as a part of Comfest 2018 (Inter Collegiate)2018-19
2019-2020:
Business Quiz
A quiz is a form of game or mind sport, in which the players (as individuals or in teams) attempt to answer questions correctly, a quiz is also a brief assessment used in education and similar fields to measure growth in knowledge, abilities, and/or skills. A Business quiz is an event which deals with company histories, business strategies, well known deals, people in news, acquisitions and future business developments. Quality and type of questions depends on the quizmaster.
Block & Tackle
Block and Tackle is a break from the conventional form of debating.Here, The participant need to speak both for and against the motion. Once they start off speaking for the motion and when the moderator says 'block' they need to reverse their motion, and 'tackle' would mean to return to their original motion.
VAISH COMCREATE 2022
REPORT OF VAISH COMCREATE 2022