MA Journalism
NUENDO SOFTWARE OPERATING WORKSHOP
SDNB Campus News – GRANDIOSA
SDNB Campus News – Alumni Stall
CAMPUS NEWS
Elders day video
Campus News 29-09-2022
News Bulletins done by Deepa student of second year M.A Journalism
Onam Celebration 2022
MENTAL HEALTH MATTERS EVERYTHING
An Article by student K.S.RASHMA Department of B.com (Honours) – Click here to view.
Young Scientist gathered at SDNB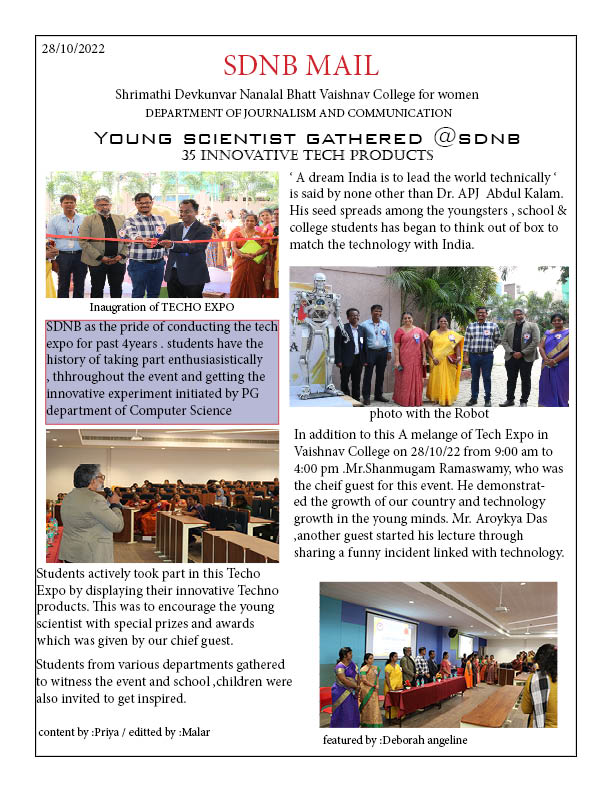 பாரம்பரிய இடங்களை கண்டறிய புதிய செயலியா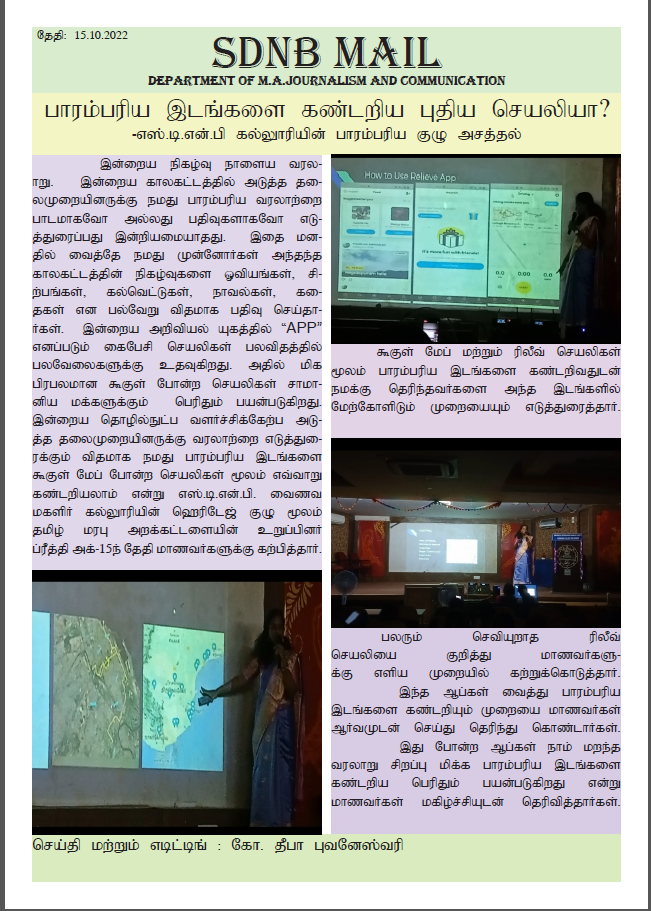 சத்தான உணவே ஆரோக்கிய வாழ்விற்கு ஆதாரம்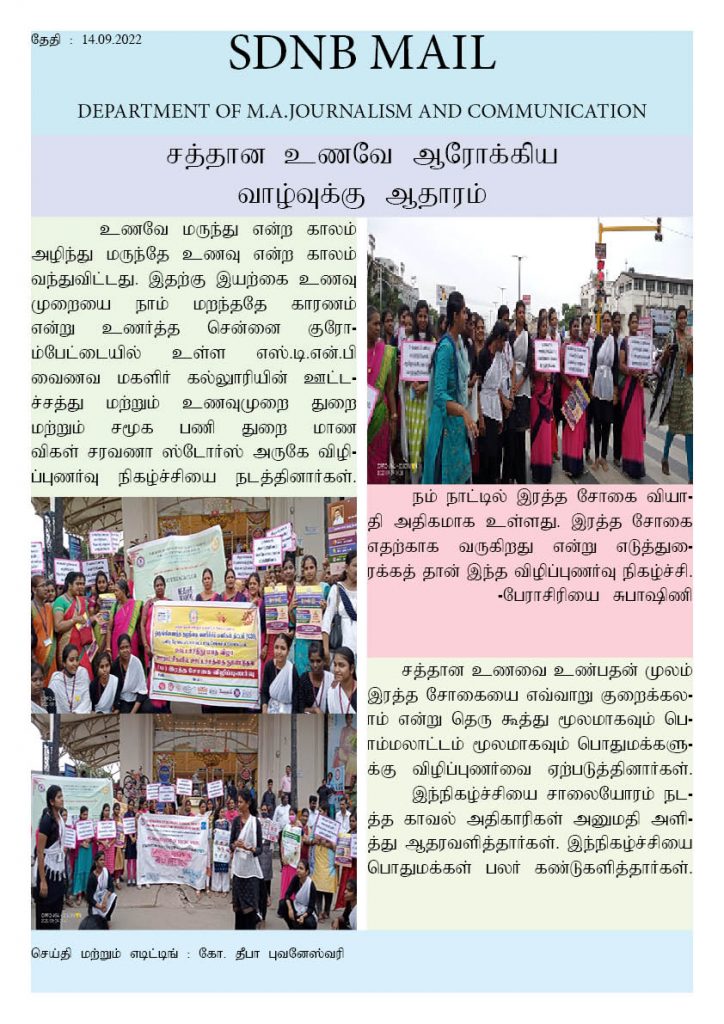 Start-ups and Entrepreneurship click here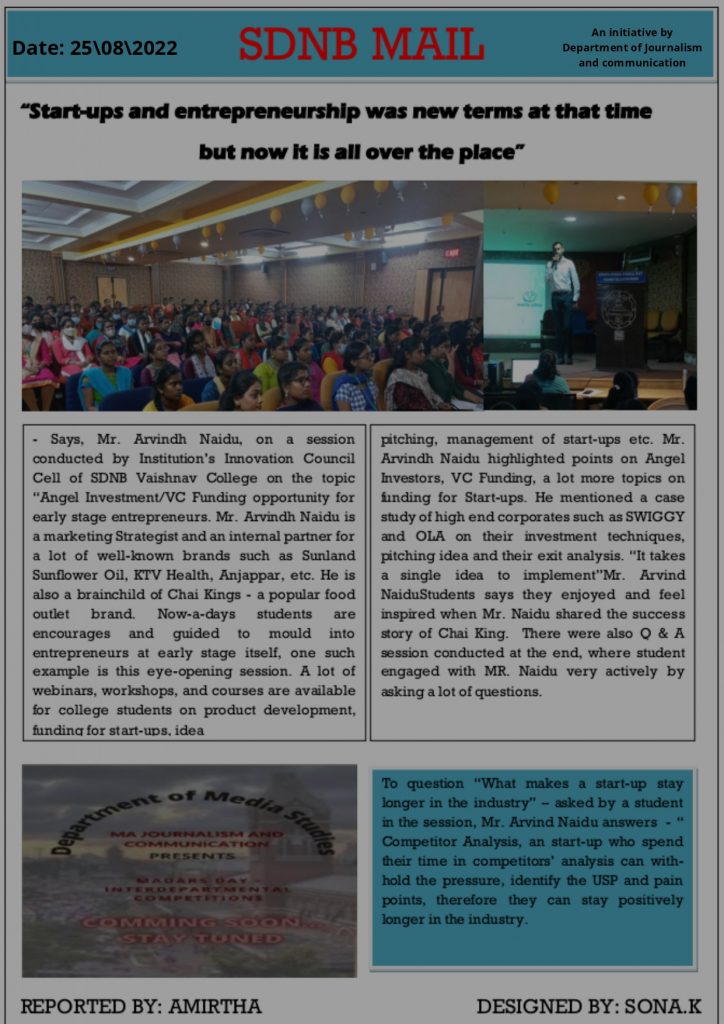 Independence Day celebration 2022
ABOUT THE DEPARTMENT
Journalism and communication is highly demanding course in this digital age. Media industry diversified from print to electronic and social media.  Ministry of information and broadcasting policy has made to boom the industry into more news channels, FM Radio stations, Newspapers and online portals. The industry is searching for skilled media professionals.Considering the job opportunities in the field of journalism the department of journalism and communication was started in 2016.The aim of the department is to place the students in industry. The syllabus is framed in a unique way with 3E'sEXPLORE-Students skills with holistic job oriented – design thinking syllabus.EXPERIENCE– Students inbuilt versatility with our practical oriented – Performing based syllabus. EVOLVE -Students progressively with our industrial oriented outdoor education based syllabus.
JOB OPPORTUNITIES
All print medium (Newspapers, Magazines, Publishing Houses as Reporter, Sub Editor, Columnist, Photo Journalist, Proof Readers, Layout Artist)
All Electronic Medium (Television and Radio as News Readers, News Producers, RJ, VJ, Beat Reporters, Script Writers, Photographers, Audio Video editors, Media Managers)
PRO in All Government Schools, Colleges, Hospitals, Corporate and IT Sector.
Teaching Professionals in colleges and Schools.
Event Managers
Entrepreneurs (Running own Online Channels and Radio)
Freelancing in All Media  (Media Managers in IT and Corporate field)
Copy writers in Advertising Agencies
ASSOCIATION NAME
Assoication Activities

Intercollegiate and Interdepartment Competition "THANDORA"
CLUB

Press club, Community Enrichment Club " JANNAL – A SOCIAL FORUM"
PRODUCTION, PUBLICATION AND PR DIVISION:

PRINT MEDIA – ARAM PUBLICATION , SDNB MAIL – The wall newspaper
ELECTRONIC MEDIA PRODUCTION–VOICE BOX
CAMPIGN FOR SOCIAL CONSTRUCTION– VOICE BOOTH
Association Report 2018 – 2019
Association Report 2017 – 2018
National Seminars, FDPs and Workshops Organized by the Department
2018-19
Journalism and Communication students participated in a panel discussion on Community Policing and Women's Safety organized by American Consulate on 6th March, 2019.
Attended the seminar on Research methodology and plagiarism checking organized by TN Open University.
Journalism and Communication attended seminar on SahityaAkademi and School of Tamil and Cultural Studies Tamilnadu Open University.
Organized a workshop on Newspaper making using Adobe Indesign software expert by Mr. Venkatesh
2019-20
The Department of Journalism and Communication conducted an one day workshop on News Reading on 23/07/2019. News Readers from Doordharshan and All India Radio Mrs. A. Arulsevi, Mrs. J. Shanthi, Mrs. R.Jayalakshmi gave handson training to the students to read live news and recorded news.
The Department conducted on one day workshop on Photography on 22/08/2019. Photographers from the industry Miss. Madhuriya. C gave lecture and Photographer Ms. R.Deepshika conducted a practical session of outdoor photography. Students were ask to take photographs after training session
The Department of Journalism and Communication organized an invited talk on DevelopmentHealth Communication. Dr.KavithaArunagiri, M.B.B.S, Deputy Director Kings Institute of Preventive Medicine gave a special awareness program on Rubella Vaccination.
Mr. P. Natarajan addressed the students and gave a motivational talk about eradication of plastic. The Department organized this talk on 5/12/2019 on behalf of Community Journalism
Our College Aluminae
Events
Makkal Kural
Second M. A Journalism and Communication students Ms. Sofiya John and J. H. Raghavi worked in Makkal Kural, News desk, as an Intern. They Published articles and short stories with byline.
ADYAR TIMES
FACULTY DETAILS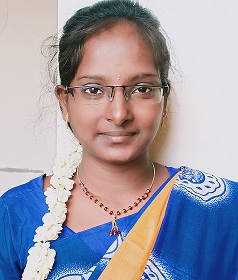 B.sc, M.A
Guest Lecture
Specialization: B.Sc. Viscom, M.A.Journalism and Communication
Experience: 6 Months